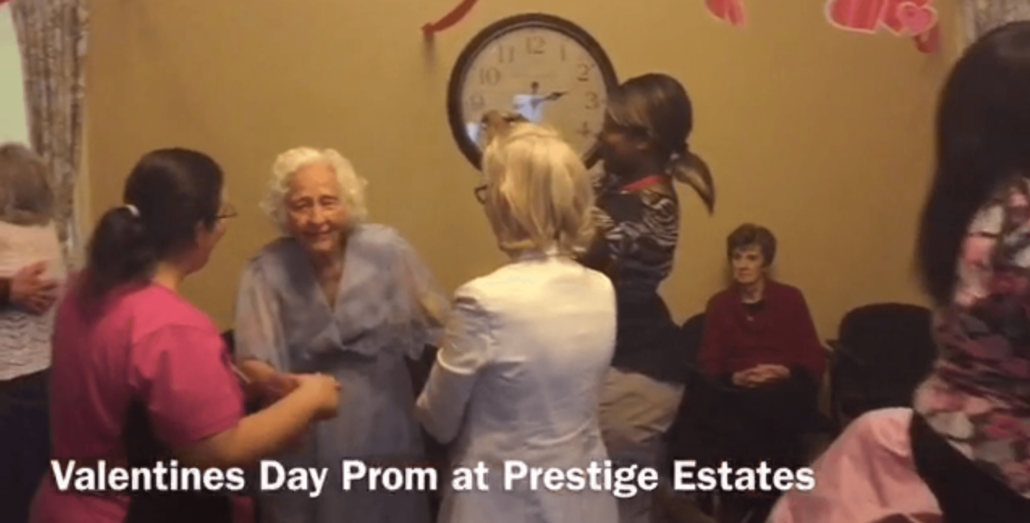 Read full Article – Tyler Morning Telegraph – Click Here for Full Article
It took some warming up, but as soon as the DJ started to sing, feet started tapping and hands started moving to the beat.
The first annual Prestige Estates Valentine's Day senior prom went off without a hitch as residents rose out of their seats and onto the dance floor.
"You'll ask these residents how old they are, and they say they are in their early 20s," Taiwana Goodwin, activity director at Prestige Estates said. "Since December, we've talked about having a senior prom for our Alzheimer unit because that is where their minds reflect back to – when they were young, so I knew this would be a special event."
Christine Edwards said she's had the vision for a senior prom since she applied to work at the assisted living facility.
When Christine Edwards walked into Prestige Estates to apply for a position with the assisted living facility, she had a vision of a senior prom being held for the residents with gowns, food, music and a DJ. On Valentine's Day, that vision came to life as several memory care residents, who suffer from Alzheimer's disease, danced in donated gowns and prom attire.
"As soon as I walked into the building, before I worked here, I knew I wanted to have a senior prom for the residents," Christine Edwards, activities director at Prestige Estates said. "One lady, that we dressed up this morning in her gown ‑‑ as soon as she had on that dress, it pepped her up. They are having a good time."
Several of the female residents wore gowns from second-hand shops around Tyler. Some family members brought in prom gowns to be worn during the event. Residents enjoyed a photo booth, karaoke machine, refreshments and a DJ. The Valentine's Day prom also included a crowning of a king and queen.
"Patricia Chriss is our queen for the 2017 first annual Prestige Valentine Prom and our king, we are honored to say, is Mr. Bill Brenton, of Tyler, " said JoAnne McMean, Community Liaison with Prestige Estates.
https://prestigeestates.net/wp-content/uploads/2017/03/Screen-Shot-2017-03-05-at-8.40.20-PM.png
1454
2866
peadmincmg
https://prestigeestates.net/wp-content/uploads/2015/10/Prestige-New-Logo-final-04.png
peadmincmg
2017-03-06 02:45:33
2017-03-06 02:45:33
Senior Valentine's Day dance turns into new annual event for local assisted living facility