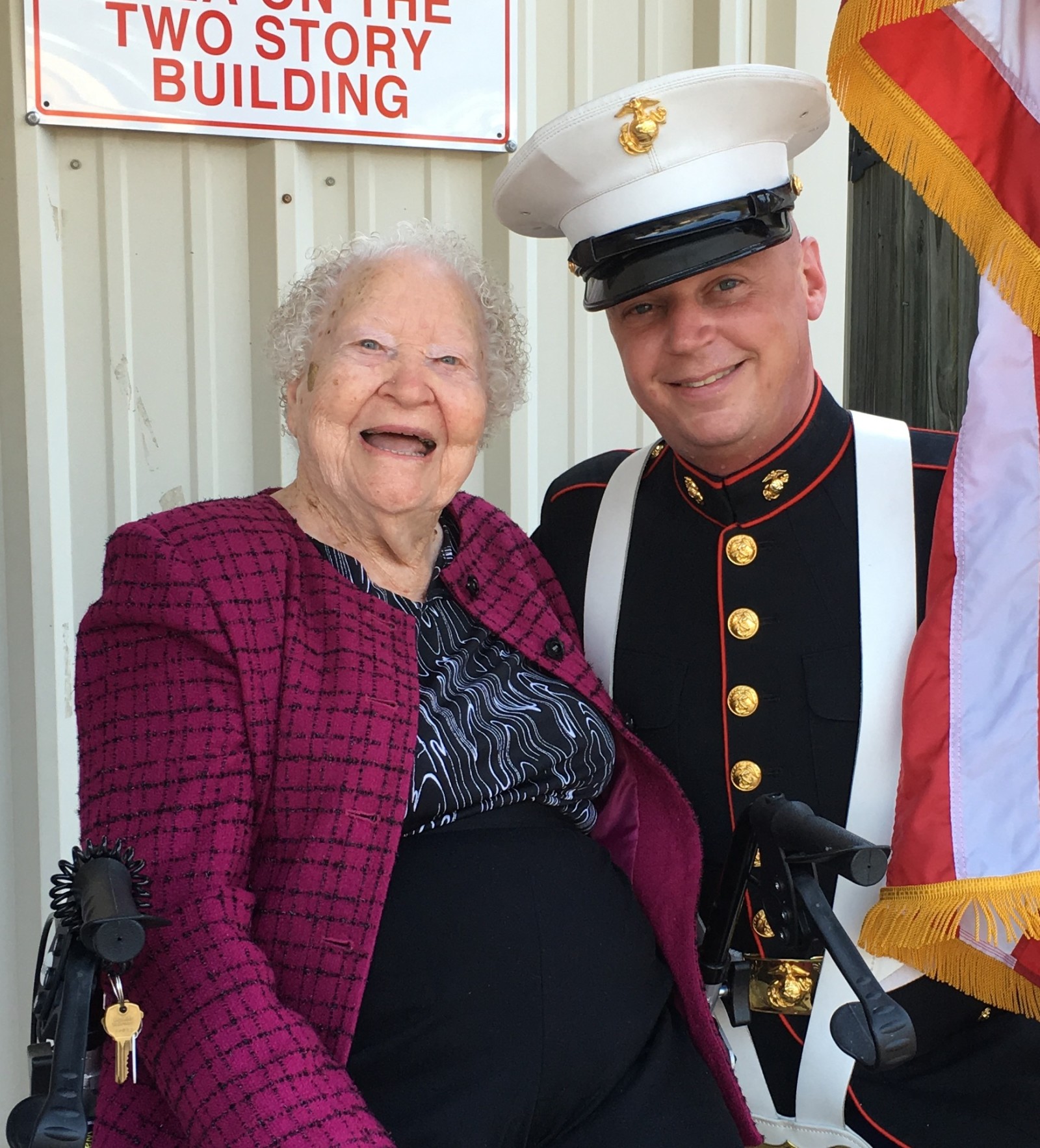 We wanted to share a "Jewel" of a story with everyone that happened today. Out of the blue today our resident,  Ms. Jewel Stallings – 104 years old,  decided she wanted to go to the Stepping Stone Patriotic Program outing that we had planned.  Our new Activity Director asked her yesterday and she didn't think so but this morning when she saw her at breakfast she asked about it and decided that she would go.
When they arrived and went inside to gym for the program Jewel looked up at a U.S. Marine Staff Sgt. that was part of the Color Guard and said, "I know you!"  and he said "of course you do, Grandmother!"  She had no idea he would be there and he had no idea she would be there!  The look and love shared between the two of them was priceless.  It was a sight to behold and the memory will forever be in our hearts.  Ms. Jewel is a wonderful woman and always so kind.  To see the love and pride in her eyes for her great grandson was so sweet.  It was a small gift from God we are certain.  After all, she decided to go at the last minute.
We just had to share this story with everyone because what we do in our livers makes a difference.  Had Prestige not adopted Stepping Stone as "grand friends" and had JoAnne not continued each year with the program and had we not participated today, then Jewel, our sweet resident would not have been blessed with what looked like to me one of the best days of her life! We hope you enjoy this as much as we did today!
https://prestigeestates.net/wp-content/uploads/2016/07/Jewel-and-Great-Grandson2-e1467409510322.jpg
1766
1600
Lauren Wyatt
https://prestigeestates.net/wp-content/uploads/2015/10/Prestige-New-Logo-final-04.png
Lauren Wyatt
2016-07-01 21:45:34
2016-07-01 21:45:34
A "Jewel" of a Story